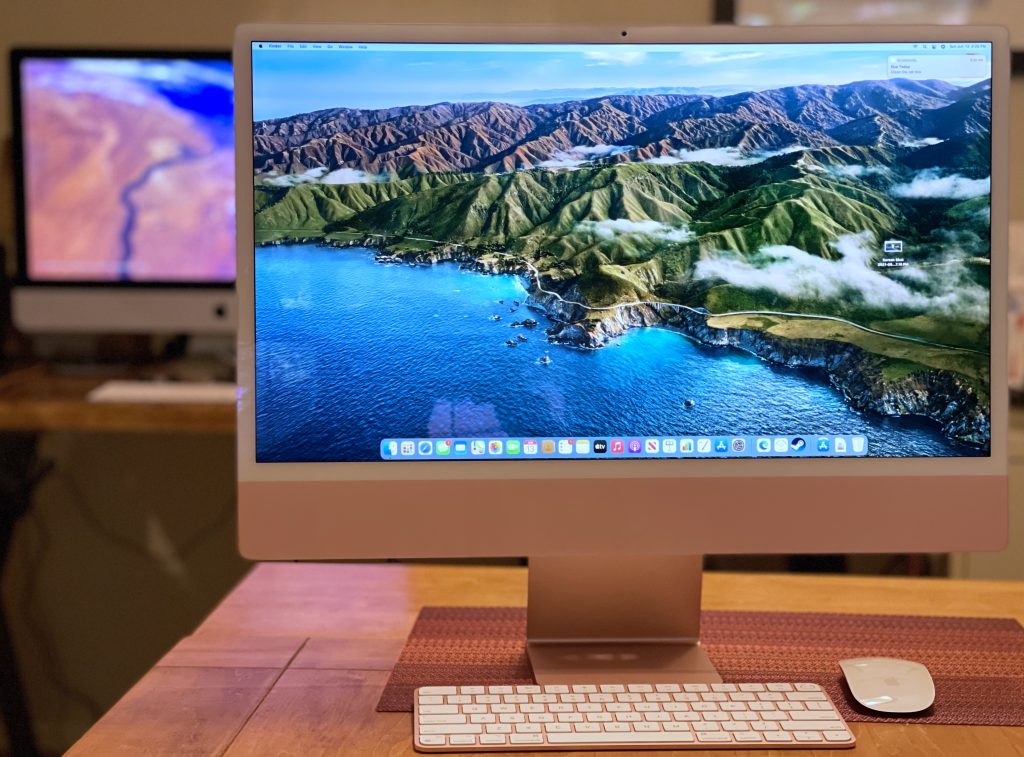 When my 2012 Mac mini fell off the compatibility list for Apple's latest macOS update in 2020, I was confronted with a choice. I typically replace my Macs when they won't get new updates, so it became time to say goodbye to this desktop workhorse. But at the same time, Apple announced at its Worldwide Developers Conference that year that the company would be moving to Macs built around its own processors, dubbed Apple Silicon.
While Intel-based Macs would continue to be sold, they were clearly the past, and Apple's own chips were its future. The transition would take two years, and there was no guarantee which models would appear when. Still, I needed to make a decision now.
I wound up buying a 27-inch Intel iMac. Despite its transition away from Intel, Apple introduced an upgraded version of this design, which had been around forever. As I wrote in a review shortly after my purchase, it's an incredibly powerful machine. I was happy . . . and still am.
But.
The introduction of the lower-end, smaller, 24-inch iMac with Apple's own M1 processor last year showed the potential of this new platform. And it made me think . . . will I have buyer's remorse once a larger-screen version of this iMac inevitably appears?
With the publishing today of Bloomberg Apple-beat reporter Mark Gurman's latest Power On newsletter, I know the answer: No.
At least, not for a while.
Gurman, who's got a good track record when it comes to Apple intelligence, lays out the company's roadmap for updated Macs:
A new Mac mini with an M1 Pro chip
A 13-inch MacBook Pro with an M2 chip, to succeed the 2020 model and sit below the 14-inch and 16-inch MacBook Pro in the line
A Mac mini with an M2 chip
A 24-inch iMac with an M2 chip
A redesigned MacBook Air with an M2 chip
A larger iMac Pro with M1 Pro and M1 Max chip options [my emphasis]
A half-sized Mac Pro, the first with Apple Silicon, with the equivalent of either two or four M1 Max chips
If he's correct – and with leaks, that's always a big IF – then the next iMac with a larger screen is likely to be branded as an iMac Pro. The previous iMac Pro, which was discontinued last year, was incredibly powerful and incredibly expensive. In the subscriber-only version of his newsletter, Gurman also predicts that a lower-end, big-screen iMac is likely not coming soon.
That means the 27-inch iMac I purchased in 2020 is going to end as an even better buy. And I say that relatively, because this computer is not cheap. It starts at $1,800; the model I purchased was $2,400, not including Apple Care and taxes. I bet slapping the "Pro" label on the next version will add at least $1,000 to the price.
I would not be surprised if Apple continues to sell the 2020 27-inch iMac even after the release of a new iMac Pro, as it continued to sell the last Intel version of the MacBook Pro after the release of its first M1 laptops. The Intel model wasn't laid to rest until the M1 Pro and Max versions were available.
Of course, all this remains speculative. It's only rumor and vapor until it's real. But for now, I remain comfortable with the choice I made.